The Montney formation in West Central Alberta and Northeast British Columbia ranks from the perspective of economics and scale as one of the top resource plays in North America.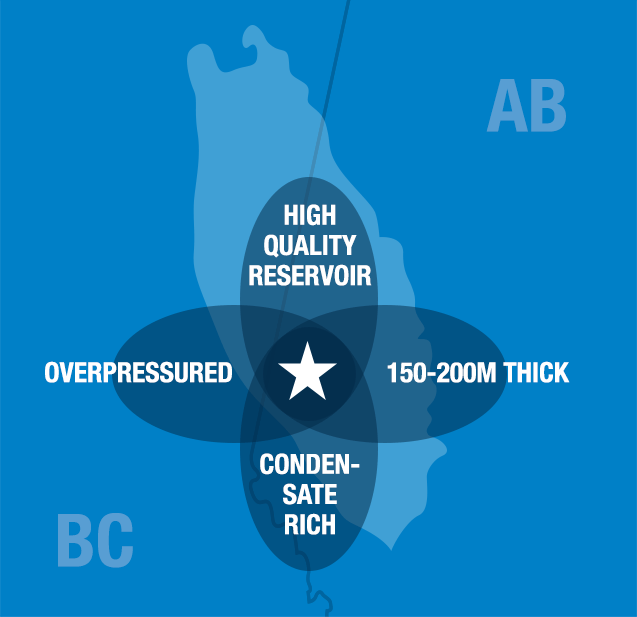 1. Scalable and Repeatable
Deposition on the shelf edge – not isolated pockets
Gas charged top to bottom
Over-pressured – low water saturation
Hydrocarbon filled porosity up to 9% (typically 4-5%)
Sand/silt reservoir exhibits much better permeability
High liquids and condensate demonstrated in all our wells to date
150 – 200 metres
Multiple developable layers of resource
The Montney formation in the greater Wapiti area is a thick (200m+) section of hydrocarbon-charted fine grained reservoir found at depths ranging from 2,500 – 3,500m. The Montney has been exploited in Western Canada utilizing horizontal wells for nearly a decade with successful developments stretching from Kaybob, AB, to Cameron, BC. Originally, horizontal developments focused on mostly dry gas regions of the Montney. However, more recently, operators have concentrated their efforts on testing and developing the liquids-rich portion of the immense Montney fairway. The wet gas retrograde condensate Montney fairway from Elmworth to Karr exhibits liquid yields that range from 25 to >200 Bbls/MMcf, permeability that ranges from nanodarcy to microdarcy, and original gas in place per section as high as 150 Bcf. Encouragingly, exceptional initial production rates of greater than 2,000 boe/d are being achieved across the map sheet.